TOWN CLERK/TAX COLLECTOR:
Lissa M. Boissonneault
823-8516
PO Box 574
Sugar Hill NH 03586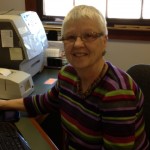 HOURS:  The Town Clerk and Tax Collector's Office will reopen on Tuesday April 16th.  Temporary Office hours are: Tuesday and Thursday 9-12 and Monday from 3-5.
Applications are being accepted for a part time Deputy Town Clerk/Deputy Tax Collector for the Town of Sugar Hill. Applications and detailed job description are available at the Sugar Hill Town Office, 1411 Route 117 Sugar Hill NH.
The position involves knowledge of State and local laws and ordinances governing elections, licensing, vital statistics and related laws governing Town Clerk/Tax Collector's office; ability to think and act independently; ability to use a personal computer and standard office software programs; ability to communicate effectively both orally and in writing; ability to establish and maintain effective working relationships with public and Town officials. Will need to attend State classes for vehicles, elections and vital records processing and privacy. 
Please contact Jennifer Gaudette in the Select Board Office at 823-8468 or selectmen@sugarhillnh.org for more information. Application must be received by April 23, 2019 
Deputy Town Clerk must be a resident of the Town of Sugar Hill.
The Town of Sugar Hill is an Equal Opportunity Employer
Nothing in this job posting guarantees employment.
Monday 4-6
Tuesday 9-12
Thursday 9-12
http://sos.nh.gov/VoteInforLook.aspx 

SERVICES OFFERED:
PAYMENT MUST BE MADE BY CHECK OR CASH
Motor Vehicle Registration: Town and State portion – plates and stickers

Voter Checklist: Proof of residency required

Marriage Licenses: $50.00

worksheet must be completed – will mail if requested
photo ID is required
both applicants must be present and sign completed license
must provide proof of divorce, annulment or death

Certified Copies of Vital Statistics: $15.00 1st copy $10.00 subsequent copies

marriage
death
birth
divorce

Dog Licenses: Must be licensed by April 30th if dog is over 3 months old

$9.00 – Male or Female
$6.50 – Neutered Male
$6.50 – Spayed Female
$2.00 – Owner over 65
$6.50 – Puppies (3-7 mos.)

Important: Be sure to bring rabies certificate. Failure to comply will make you liable to a penalty of $25.00 if not licensed by June 1st. RSA 466:13