TOWN CLERK/TAX COLLECTOR:
Lissa M. Boissonneault
Deputy Clerk/Collector
Marie Snyder
823-8516
PO Box 574
Sugar Hill NH 03586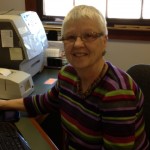 TOWN CLERK AND TAX COLLECTOR:
Office will be closed on Monday January 18th
Monday 3:00 – 5:00
Tuesday 9:00 – 1:00
Thursday 9:00 -1:00
HOWEVER – We strongly encourage residents to send payments through the mail or leave in the lockbox at the front door.  This will reduce the risk of exposure to both customers and employees.
IF YOU ARE NOT FEELING WELL -We ask that you refrain from entering the building and instead mail in your paperwork.
http://sos.nh.gov/VoteInforLook.aspx 

SERVICES OFFERED:
PAYMENT MUST BE MADE BY CHECK OR CASH
Motor Vehicle Registration: Town and State portion – plates and stickers

Voter Checklist: Proof of residency required

Marriage Licenses: $50.00

worksheet must be completed – will mail if requested
photo ID is required
both applicants must be present and sign completed license
must provide proof of divorce, annulment or death

Certified Copies of Vital Statistics: $15.00 1st copy $10.00 subsequent copies

marriage
death
birth
divorce

Dog Licenses: Must be licensed by April 30th if dog is over 3 months old

$9.00 – Male or Female
$6.50 – Neutered Male
$6.50 – Spayed Female
$2.00 – Owner over 65
$6.50 – Puppies (3-7 mos.)

Important: Be sure to bring rabies certificate. Failure to comply will make you liable to a penalty of $25.00 if not licensed by June 1st. RSA 466:13